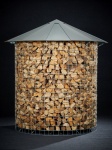 Large woodshed 6m³
Large woodshed 6m³ with a galvanized roof - 409,- € (338,01)
Large woodshed 6m³ with an aluminium roof Prefalz - 525,- € (433,88)
Galvanized steel grate – large woodshed 6m³ - 180,- € (148,76)
Non-galvanized steel grate – large woodshed 6m³ - 135,- € Kč (111,57)
Door reinforcement for entrance to the woodshed - 112,- € (92,56)
Cover sheet - light – large woodshed 6m³ - 112,- € (92,56)
Cover sheet - heavy – large woodshed 6m³ - 242,- € (200.-)
Small woodshed 4m³ with a galvanized roof - 381,- € (314,87)
Small woodshed 4m³ with an aluminium roof Prefalz - 494,- € (408,26)
Galvanizerd steel grate - small wodshed 4 m³ - 161,- € (133,05)
Non-galvanized steel grate – small woodshed 4 m³ - 121,- € (100,-)
Door reinforcement for entrance to the woodshed- 112,- € (92,56)
Cover sheet - light – small woodshed 4 m³ - 90,- € (74,38)
Cover sheet - heavy – small woodshed 4 m³ - 215,- € (177,68)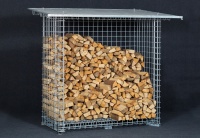 Special type of woodshed, square, 4m³
Special type of woodshed, square, 4m³, galvanized, roof tilted forward – for placement by the wall - 736,- € (608,26)
Special type of woodshed, square, 4m³, galvanized, roof tilted backward – for placement by the fence – in space - 736,- € (608,26)
‌
Transport of Germany, Austria in the price
Delivery term 2-14 days by options routes distribution of .
The price includes 21% VAT; the price without VAT is quoted in brackets.
The price includes the assembly and installation by the manufacturer in the place of delivery.
Conditions of payment: cash, pro forma invoice.